This is a newer drink I recently learned from one of our clients which we will be serving at her wedding this upcoming month. Its a hot drink and seasonally flavored, just in time for Fall. Of course The Bar Hops had to test and add another personal touch. I myself enjoyed one the other night sitting on my backporch in the cool night air, listening to the grasshoppers and katydids.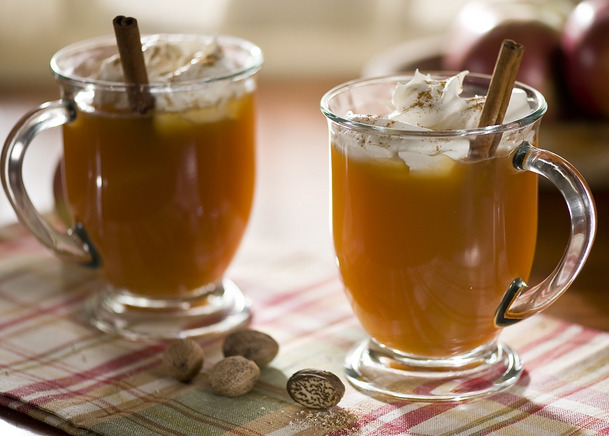 What you will need for 1 serving:
1 oz Tuaca Citrus Liqueur
1/2 oz Stoli Vanil Vodka
6 oz Hot Mulled Apple Cider
Dab of Whipped Cream (optional)
Pinch of Ground Nutmeg
1 Cinnamon Stick
8 oz Mug
1. First heat your apple cider on the stove to a boil and cut off. Since cider can come in many formats its important to get the right kind. Many products labeled as cider are simply apple juice, sometimes with a little extra taste, but they don't give you that homemade, sitting in front of a fire taste we want. For this recipe, you are going to want to purchase either "spiced apple cider" or "mulled apple cider", both which can be picked up at your local grocery stores, or if you want to go the extra step and have true homemade cider, this is a great recipe!
2. Grab your mug and fill it 2/3 full of piping hot cider. (of course this recipe can be tweaked to suit any size mug, but the alcohol content is a standard drink)
3. Add the 1 oz of Tuaca, 1/2 oz of Stoli Vanil, and the cinnamon stick. Then give it a swirl and let steep for 3-4 minutes to let the flavors infuse the cider.
4. Finally add a dab or dollop, depending on what part of the world you come from, of whipped cream and sprinkle a pinch of ground nutmeg on top. Some like to stir in the whipped cream, but I personally like to let it slowly melt in, giving it a more complex taste the further you drink with a sweet finish, and more than likely a creamy mustache to show off just how satisfied you are.
5. Get cozy and snuggle up in front of a fire or relax out on your porch and listen to the trees. Your choice. Cheers…
-William Batson
The Bar Hops
🙂
For all you mobile bar service needs check us out at www.thebarhops.com , supplying Birmingham, AL and surrounding areas with Experienced and Knowledgeable Bartenders & Wait Staff and Bar Related Rentals.